You can use the PST files to import data into Mac Outlook, though it is native file to Windows Outlook. However, what you cannot do is use Mac Outlook native file called OLM in Windows Outlook. This makes importing OLM to Outlook Windows a confusing process.
Why Do You Need a Professional Utility (or why Manual approach fails?)
Before proceeding, let us discuss the one method that many people talk about but the truth remains that it is not the best way to deal with the situation. Basically, you get the local data in OLM or Mac Outlook and sync it to an email server using IMAP protocol. You can get a dummy email account in Gmail (that supports up to 15GB space on servers) and then let Outlook Mac sync everything to that account. Lastly, add the same email account on Windows Outlook and this time, get the data synced back from the servers to Outlook local database.
This works in theory, but in practice, there are several issues. One of which is that it can be strenuously long and time-consuming approach. Secondly, unless your Outlook Mac data or OLM files are less than 15GB, you cannot use account like Gmail's to sync up everything. You could potentially do it in multiple steps, but that again makes an already lengthy process even more frustrating.
And even after ignoring these challenges, IMAP protocol-based data transfer could result in incomplete migration. Since, many of the steps involved are manual, there are also risks of skipping some folders or data elements. For email data, even the tiniest element could be very crucial for users. A single graphical object could potentially be fundamental information that you wouldn't want to leave behind.
How Can a Professional Utility help to import OLM to Outlook Windows?
The way we always suggest people to import OLM to Outlook Windows is through a professional file converter that can convert OLM to PST. There are many converters to do this job, but none that can deliver seamless and error-free results, except one.
Gladwev built 'OLM to PST Converter Tool' fills this void well. It is a Mac and Windows based software app (desktop-based) that works with all your data inside OLM files in a clean, quick, and detailed way. Nothing is left behind, there are no loss to data or structure, and it has a user-friendly interface.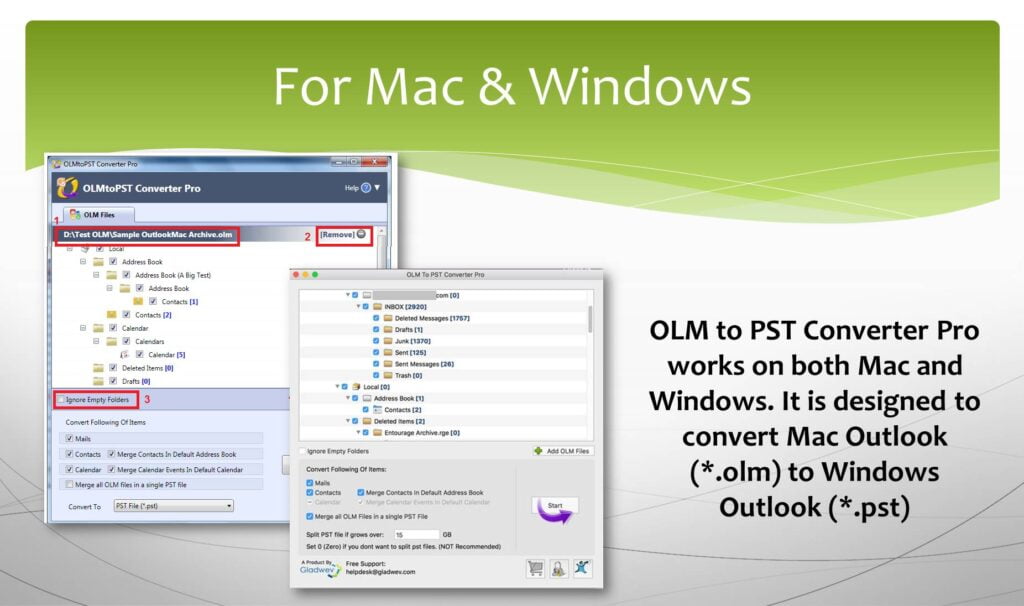 If you have been on a look out for the best and most friendly way to import OLM to Windows Outlook, this is it! You are getting some of the most innovative and advanced internal logic responsible for the accurate conversion of even the tiniest and complex fragments of data (like headers, metadata, non-textual attachments, etc.).
Through features like splitting large PST files, Unicode characters support, batch conversion, and more – the software completely redefines the email migration from Outlook Mac to Windows.
Also read: https://www.umakantagiri.com/olm-to-pst-converter/
Get your trial copy
You can find the link to download the setup/installer file below and run it in a free trial mode for as long as you want.
The trial mode limits the items to ten per folder within the OLM files but places no restriction on anything else. So, you can freely interact with it and evaluate the performance in your own way. There are many other features and subtle improvements from the traditional mail converter make the app the best in its category, bar none.