Here is the topic about OST to PST Converter free Online Tools Vs Professional Desktop (Mac / Windows) based tools. What is the difference and why should you avoid the Online Tools.
Web Based / Online Tool
With the ever-improving tools and languages for building software applications, we have seen many web-based tools for various tasks. From image-editing tools to website building to even virtual reality apps, we have online tools that are accessed through browsers like Chrome and Firefox.
A web based tool runs primarily on the server-side rather on the client-side (locally) as in desktop based tools. Though some apps do require some form of processing to be done on a local machine, but most do not. Where a desktop application requires you to install the files on your computer directly, a web-based app can simply be access on your browse using its HTTP address. All the instructions are sent over the network and are processed on the servers, returning back the values to the client.
OST to PST Converter Free Online Tool
There are many free online tools based on their desktop counterparts. You will find too many image editing tools online that are supposed to offer the same features as Adobe Photoshop on desktop does. But if you have used both of them, you will realize how massive the difference between Photoshop and online based tools are. They are not supposed to replace each other, but when you have light editing needs, you can simply use an online tool.
This leads many users to think they can use one of these OST to PST converter free online tool to convert data from Outlook OST to PST. But sadly, you cannot.
Zero Reliability
Firstly, there are extremely few free online solutions for OST to PST conversion. They often have zero reliability or trust and are offered by largely unknown distributors and services. Most of the free tools serve massive amount of ads that make the entire process very painful, if not totally inefficient.
Data Theft / Loss
Secondly, there's always the risk of your data sensitivity. Because email files contain sensitive information, it's advisable you don't give it away to unreliable online services. There's a massive risk of data theft. And if not intentional data theft, you can experience data loss of original and output files.
Impossible for Some Complex Task
Thirdly, if everything goes fine in context of what's said above, you will rarely get all your information from OST files to PST. The email files can some of the most complex files containing several types of information in intricate order and structure. Such as; your mailbox folders, metadata, MIME headers, Unicode content, DBCS characters, cloud-based files and attachments, long email addresses, and so on. For a free online converter to get to all these elements is a near impossible task.
Therefore, it isn't a surprise that most experts or anyone who have experienced the both side of OST to PST conversion will recommend you to stay away from OST to PST converter free online tools. Instead, if you value your time, and more importantly, the security of your data and data integrity, go with a commercial, desktop-based tool, offered by a reliable source. Not just for the security reason, but also to get the conversion results as thorough as possible.
Desktop Based OST to PST Converter Tool (Offline)
Here are few important aspects you would like to know about "OST Extractor Pro". It works on both Windows and Mac Operating System.
It allows converting OST to not just PST but other formats as well, like Thunderbird, Postbox, MBOX, EML, and Mac Mail files.
You can load any number of OST files you want to convert. The tool does't falter during heavy conversion projects and will get every data moved with precision.
You can set a limit for PST files size so they don't get too large during conversion (because large files are very hard to import to Outlook).
Support converting OST files from all sources (Outlook 97 to 2016, Office 365, Exchange ActiveSync). Most free online conversion tools only support files from the latest editions of Outlook.
The PST files it converts the data into can be used with all Outlook versions as well, including Mac Outlook.
There's an easy way to check which folders you want to convert and which ones you don't. With online free solutions, you don't have such freedom. All you can do is load the file and wait for it to convert into PST, the entire database. Here you can easily filter the type of folders, manually uncheck the ones. If you don't want to convert, the ignore empty folders, and so on.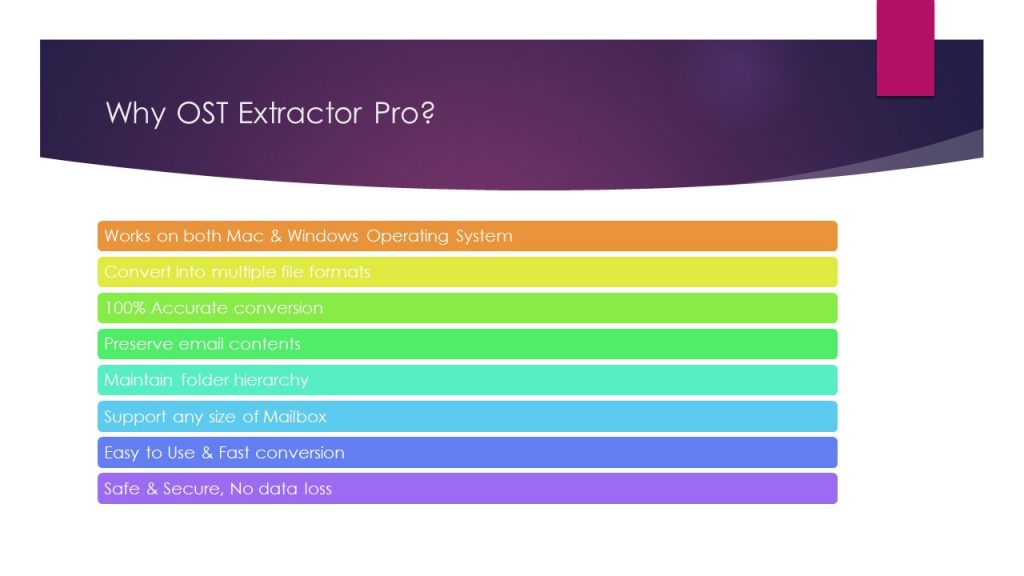 Difference: OST to PST Converter Free Online Tools Vs Desktop Based
More on what 'OST Extractor Pro' offers, especially how it differs from the ordinary free online converters:
Offered by USL Software. USL Software is the leading source of most of the efficient solutions relating to email migration you can find. They have been offering professional support for such complex task for many years now, to both home users and IT professionals from large corporations. They are as reliable as you can get.
The tool is backed up by the USL Software's renowned tech support team. They will get you to where you need very quickly if you feel need a helping hand.
The tool gets auto updates and are/will always be free for lifetime.
"OST Extractor Pro" is one application (available for both Mac and Windows) that delivers seamless experience of converting OST to PST files. It is available for free (trial) and has several types of licenses for full version.
A lot of things that once required a hardware (RAM and Processing Unit). Now it can easily be performed on a simple browser like Chrome. That has changed a lot of online interactions. But OST to PST conversion isn't a simple process that you can perform and get results mid way. You will either require to convert data element with 100% precision or not at all. And that's something an OST to PST converter free online tools cannot.
Get OST to PST Converter free trial Today
Download and Read More at https://www.ostextractorpro.com/
Get the free trial version to recover data from OST file to PST for Windows & Mac Outlook.
After you will use it directly (try the free mode for that if you don't feel confident Yet), you will realize how getting a professional converter will give you far better returns in terms of data security and productivity than impulsively going for OST to PST converter free online tools.