Let's get the tool to recover, repair and convert ost to pst with accurate data conversion. Continue reading to know more about ost to pst converter software and solutions.
How to Convert OST to PST Accurately
Email is the most commonly used method of communication worldwide. Ever since the first email was sent decades, its popularity kept on growing. And because of that, it's complexity grew too.
The way emails are sent today resembles nothing of how it all started. Today, email is not merely a string of words sent from one network to other. They have grown from a simple message sharing service to a technology. It can instantly send any information to one or multiple persons altogether in quite a numerous forms and formats. And it is ranging from text based to HTML formatted, from a local/regular file attachment to cloud file attachment, and so on.
Therefore, if you look at emails today, you'll find they contain a lot of information. And the desktop email clients (that offers a better way to manage emails) make all of that even more complex. As opposed to web-based clients, desktop clients offer a lot of new and different ways to deal with hundreds of emails on a daily basis.
The only downside to that is when email recovery or conversion is required, all of the complex nature of emails make it hard for users to transfer or recover data.
Let's Talk About How to Convert OST to PST
Today, we are talking about how to convert OST to PST without losing the richness. Migrate all components of your emails and other items from OST to PST. OST to PST migration is not just email file conversion but also data recovery, and therefore it becomes trickier.
The typical and conventional solutions that most go towards are weak and ineffective in dealing with the harsh nature of OST files. The extraction process requires dedicated algorithms that can scan the files cleanly and thus extract all information. The result is often dis-satisfactory. You will find missing embedded images, broken string of text especially non-English characters, damaged folder hierarchy, and other similar data integrity losses.
This can be frustrating to any user but is devastating in a business environment. Loss of one or two normal graphical objects is acceptable. But what if those contained information and sensitive info like your client's bank details? In such cases, data fragmentation and compromise to data integrity is very painful.
And the nature of today' email make that a higher possibility.
Unless you have a professional OST to PST converter tool, or you know how to convert OST to PST professionally.
Advance OST to PST Converter Tool
Today, we are bringing a tool built with excellence and dedication towards the data accuracy while recovering and converting OST to PST. It's developed keeping the base skills of home users in mind. Which means, you don't need to know anything about OST to PST recovery or have any other technical expertise. The graphical interface is tailored towards the home users so you can intuitively use the tool and all its advanced features effortlessly.
And now, let's talk a little bit more about the most important feature – data accuracy. Let's see what and how it can convert OST to PST while keeping everything in check and preserved.
An email contains a lot of information within itself. All of it is important from the users' point of view. For example: headers and metadata including components like To, Cc, From, etc. It can also contain images and attachments. If these parts are lost or not recovered properly, it is never good for the user.
Data integrity loss can be very disappointing, and especially when it's not realized straight away. Often times, users realize after months that some part of an email is damaged. They don't see the text properly, or a graphical object isn't appearing normally.
The best Software to Convert OST to PST
This is what "OST Extractor Pro" deals with precision. It runs the advanced algorithms on OST files for processing data. And then extracts every single byte of information without exceptions. The multi-phase logic system ensures no components, either small or big are dealt with carelessly. This includes metadata, headers, time and date stamps, and so on.
Few things you need know while converting OST to PST
Two most tricky data parts that conventional approaches almost always falter at processing are: folder hierarchy and non-English text.
Folder hierarchy
It is an order/arrangement of your folders inside a mailbox. Most email recovery and email migration tools fall short a hand or two from preserving your folder hierarchy. Not "OST Extractor Pro." It can map out the entire structure of your mailbox folders to perfection such that none of the folder is misplaced form its original rank. Even if there are many subfolders and the hierarchy goes deeper than the two or three or more levels, it will all be reserved without even a minor modification.
Non-English text
Text inside emails are encoded in appropriate format for viewing. Common standards are ASCII (for English), UTF-8, and UTF-16. Most OST to PST converters do not properly convert non-English text. And most often, it's the text encoded with DBCS (double-byte character set), a part of Unicode, that is trickiest to convert and recover. "OST Extractor Pro" has the dedicated algorithm for DBCS languages like Chinese, Korean, and Japanese that will deliver clean conversion of text in any language.
So, if you want to convert OST to PST without deviating the original data architecture like folder hierarchy and email headers, get 'OST Extractor Pro' today. There's no other tool that can match the features, accuracy, and friendly interface of this one.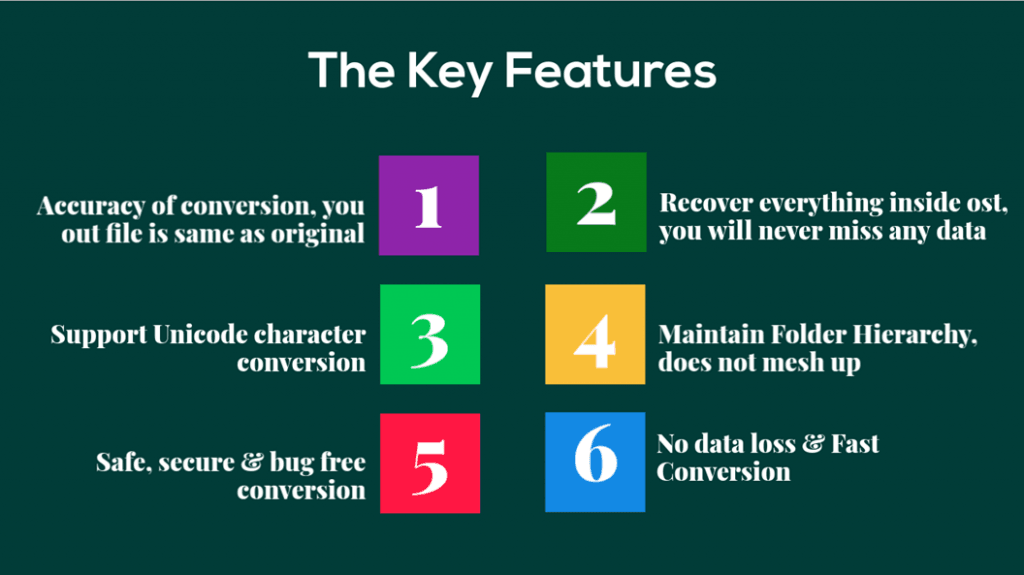 To convert ost to pst, try 'OST Extractor Pro' today.