MBOX, though a generic format, is not applicable in Outlook client, neither Windows nor Mac version. Therefore, if you wish to import MBOX files to Outlook, you need to convert them to an applicable format.
Import MBOX files to Outlook Mac/Win
You can convert them to OLM format if you want to import data to Outlook Mac. You can also convert them to PST format, which gives you the freedom to use them in both Windows or Mac version of Outlook.
And what better tool to do so than "Mail Extractor Pro". It allows converting MBOX files to PST in a quick and strategic manner.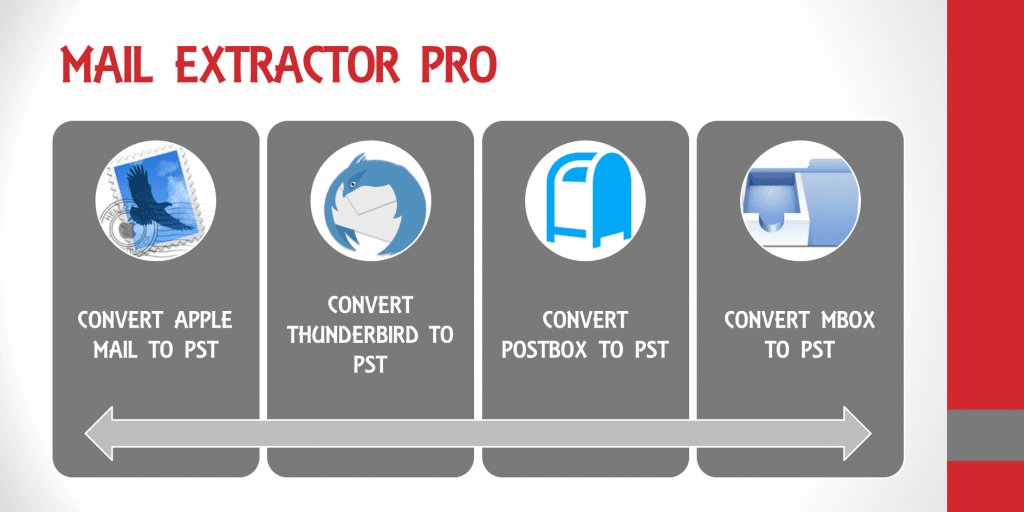 I am going to discuss some of the unique aspects of the tool that has made it the most favorable option to convert MBOX files to Outlook PST for many users:
Some Unique Aspects
The first is of course the interface, which makes the job flow smoothly from start to finish. It is built for basic users who has no tech knowledge about data files or other complex steps. The intuitive nature of the graphical interface simplifies the process substantially.
Second most appreciated part of "Mail Extractor Pro" is the way it preserves the arrangement of your mailbox folders. It has special algorithms that traces the hierarchy of your folders and maps it onto the Outlook PST files correctly without ever misplacing any component.
Speaking of data accuracy, the tool also takes special care of data components such as Unicode text in headers, links, email addresses, or text in email bodies. Languages like Chinese are particularly tricky because they are encoded using double-byte instead of single. The tool contains dedicated scripts to ensure complete conversion of such characters from any part of an email.
And finally, here are the steps involved for this job:
How to import mbox files to Outlook
First you need to have the MBOX file ready
Launch the tool and click on 'Load' next to MBOX files.
Browse to where your file is located and select it.
Then, you can choose which folder you think is unnecessary to convert. Simply un-tick the box next to them.
Select the maximum size for your output PST file. The tool splits large files.
Click 'Convert' and wait for it to finish the conversion.
Once done, you can them move your PST files to wherever your Outlook is installed (Mac or Windows) and then import them.
There is currently no other tool or method that works so simply and yet keeps the original structure of data intact.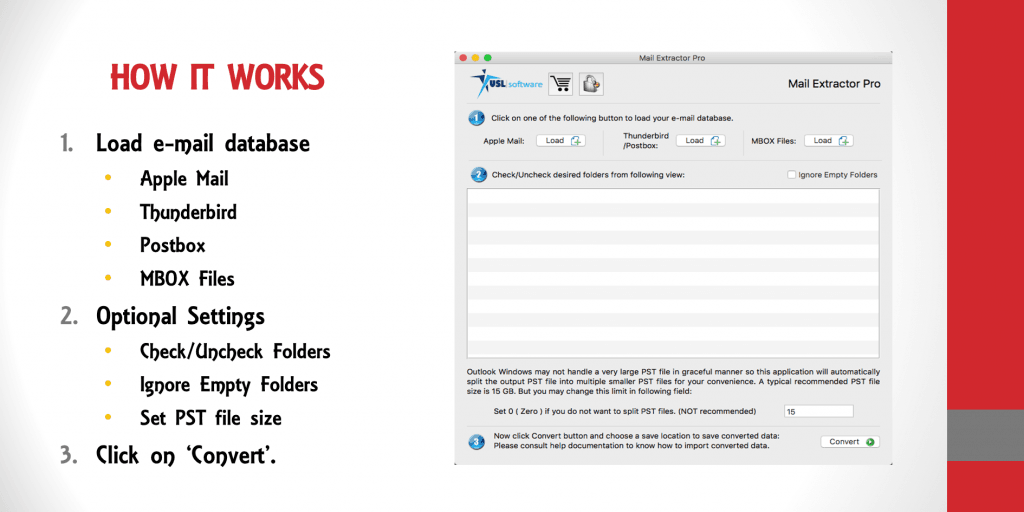 Most third-party MBOX to Outlook converters are missing one or more essential features that make them a nightmare to use. If their interfaces are simple, they lack the certain options that are important to have meaningful output. If they contain good features, they have some other missing link.
Only "Mail Extractor Pro" is built to perfect that never offers any such annoyances or frustrations to users.
Try it to import mbox files to Outlook
On top of its functionality, it also comes with a 24 x 7 tech support that can help you in certain uniquely complicated cases. Get in touch if you have any queries.
There are several licenses depending on various needs of individuals or companies. Pick one that fits your needs. Or try the free version first that gives access to the entire features but only converts ten items per folder. It is a perfect opportunity to see it in action without any commitment.
Mail Extractor Pro is an unique tool to convert Apple Mac Mail, Postbox Data, Mozilla Thunderbird Database and MBOX files to Outlook for Mac & Windows.
To import MBOX files to Outlook, try this tool today.