Jumping ship from Outlook to Mac Mail? You are going to need an Outlook OLM to Mac Mail converter that can help you move your data emails, contacts, and calendar. The reason why you need a third-party converter is that both clients offer no official import/export feature to get it done.
Mac Mail only allows importing MBOX files and Outlook only exports data to OLM files. So, you cannot go the conventional route of using the data files, leaving you the only choice of converting OLM to Mac Mail.
There's a third choice which might work in case you have only a couple of folders. What you can do is drag the folders from Mac Outlook into the desktop. This gives you MBOX files compatible with Mac Mail. But there are many problems and limitations with this approach. It can be exhausting to do for a large database as you have to manually drag each folder individually. Also, it doesn't work for your contacts and calendar data. And the insides of the converted MBOX files may not be consistent with the original. The details are often not preserved.
Outlook OLM to Mac Mail Converter
Bringing us full circle to third-party Outlook OLM to Mac Mail converter. And the only thing that is in your way is the decision about which converter to pick because there are many. And frankly, such a hunt for a niche tool that works the best can be exhausting.
I recommend "OLM Extractor Pro". Not just because it is easy to use but also because it has all dedicated support to find the images, attachments, and everything email file OLM could contain and convert it for Mac Mail.
There are two options to choose the format for Apple Mail. You can either directly convert it into 'Mail' folder or MBOX files. The benefit of converting to MBOX file is that you can import them into other clients as well, such as Thunderbird. But ultimately, it is your choice.
Here are some more important aspects of the tool:
It has a native support to convert the contacts to VCF and calendar to ICS files. Moreover, you can choose to convert those data to a single file per folder.
There is option to filter the folders before conversion, so it is easier to choose what folders you want and what you don't.
If you are converting OLM to MBOX, you can set the size limit for the MBOX files and the tool will split the large files automatically if your OLM files are large.
You can also convert Outlook OLM to other formats such as: Entourage, Thunderbird, Postbox, and EML format.
USL Software backs it up by 24 x 7 tech support, which is a priceless addition in case you have any questions or face any issues.
How to convert Outlook OLM to Mac Mail Archive
Launch 'OLM Extractor Pro'
Add OLM (You can add one or more olm files)

Click on "Add OLM" or
Drag and drop olm files to the preview panel

Optional Settings:

Check type of data (Mails, Contacts, Calendar).
Ignore Empty Folders to exclude empty items.
Check/Uncheck folders that you want to convert.

Select your desire output format – Apple Mail, Address Book, Calendar (iCal)
Click on "Convert".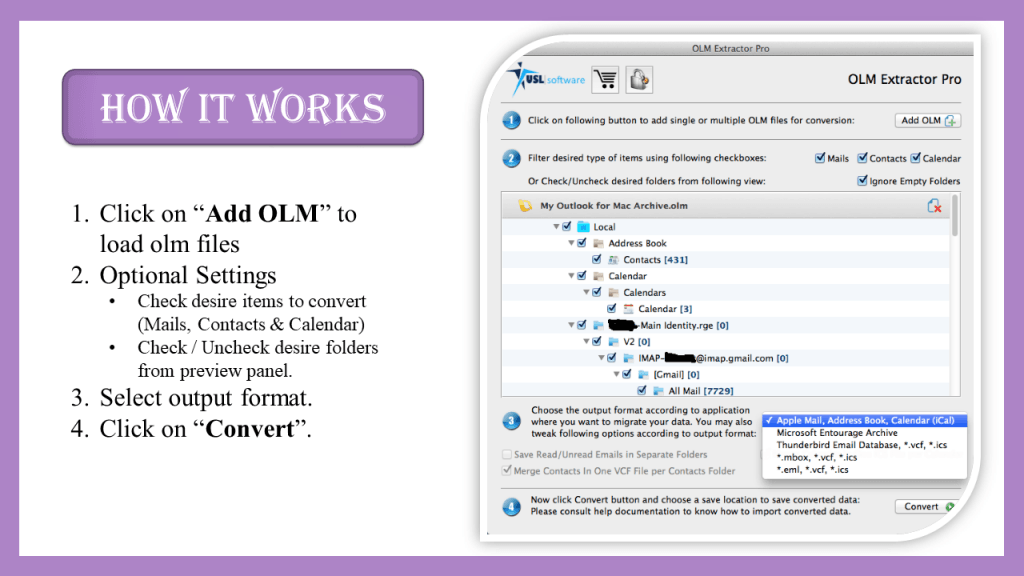 Get this Outlook OLM to Mac Mac Mail Converter
Try it. The free version makes it risk-free and gives you a closer look. It limits to ten items per folder but lets you check out every other feature, which is a great way to inspect any software application. It's also not limited by time, so do it at your own pace.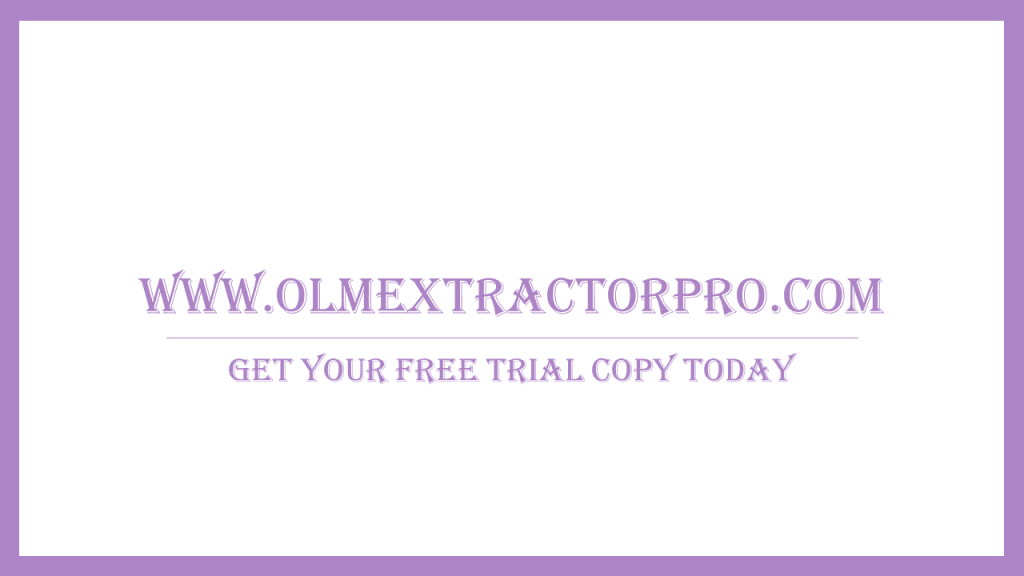 If you are looking for Mac Outlook OLM to Mac Mail converter, then this will be the perfect tool for you.